Well, it's that time of year again.
Yes, it's November. And what does that mean for the consumer goddess within us all? It's time to race out (or onto your computer) and nab your beloved 2024 Beauty Advent Calendar for your favorite brand before they are all gone into thin air.

Yes, it's November. And what does that mean for the consumer goddess within us all? It's time to race out (or onto your computer) and nab your beloved 2024 Beauty Advent Calendar for your favorite brand before they are all gone into thin air.

.
This post may contain affiliate links, which means I'll receive a commission if you purchase through my links, at no extra cost to you. Please read full disclosure for more information. Having said that, I only ever recommend products or services that I truly love and stand behind!
.
Yes, quicker than I can say, Charlotte Tilbury Advent Calendar, they will no longer exist. Like a gadget from a James Bond film, something about self-destructing? No? Moving on. Ahem.
But in truth, many of my usual faves have indeed sold out already.
So, in the meantime, let's indulge and take a look at the relatively new phenomenon that is the beauty advent calendar.
When I was a kid, we were happy just to get an advent calendar with a chocolate behind each door. It was so much fun!

But look how far we have come.
You can now give (or get, let's not deny it!) some of the best crowd favorites and high-end luxury beauty brands for a very reasonable price, so why wouldn't you?
Perhaps that goes some way to explain why they are such commodities every year and so hard to obtain before they are all gone from stores.
Let's take a look at some of my favorites for 2023.

And this is your warning: there are spoilers ahead!!
.
BY TERRY | Terryfic Glow 24 Day Advent Calendar
One of my more beloved bougie brands – By Terry presents this glorious collection of high-end beauty products for your avid luxury beauty collector.
Inside you'll find such beauties as: hyaluronic global eye serum, brightening CC serum, tool expert retractable Kabuki brush, lip expert shine, baume de rose micellar water, hyaluronic pressed hydra-powder and soooo many other By Terry gems.

Be quick, as this one doesn't last!
.
NYX 12 Days of Kissmas Countdown Advent Calendar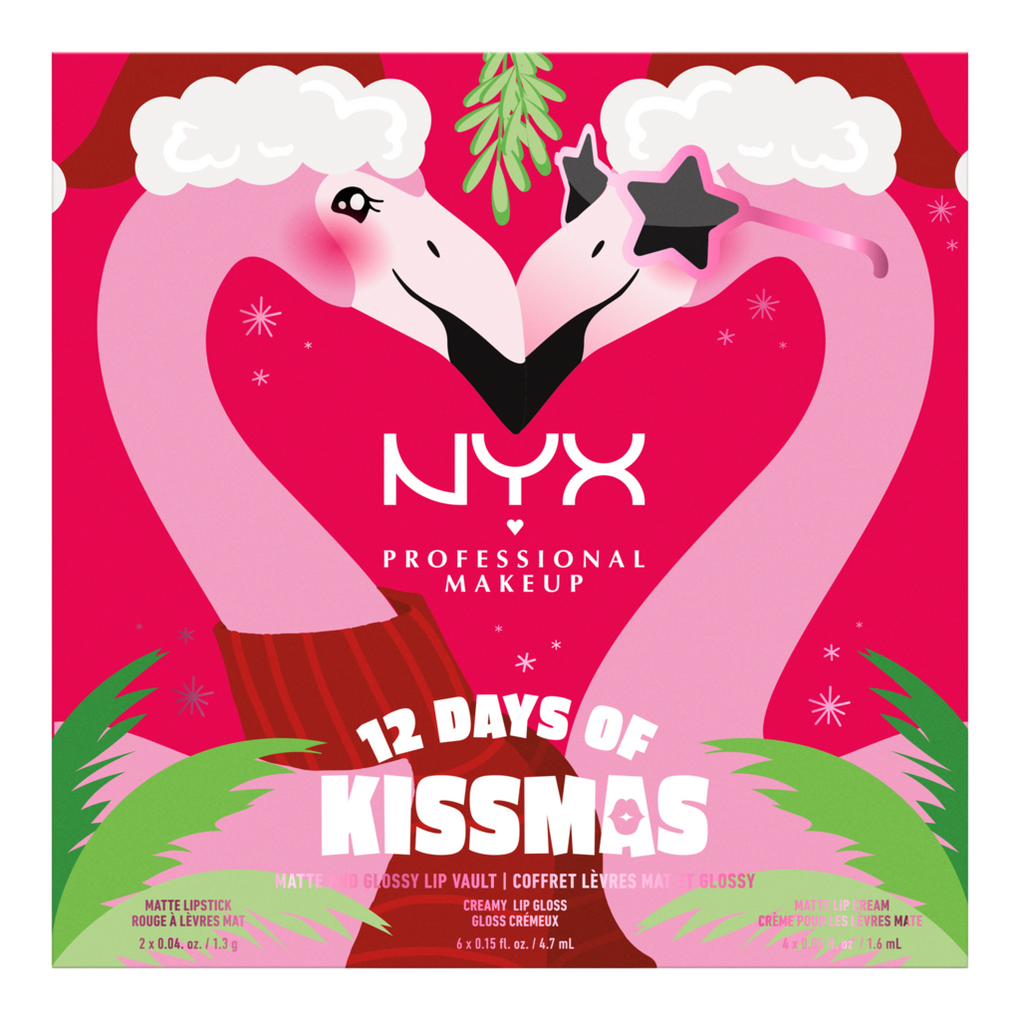 .
This wouldn't be the first time I've said I'm a bit of a closet NYX fan. No pun intended.
And no, I don't follow basketball.
But if you're a NYX fan, or if you know any die-hard NYX fans (OMG I can't help it!) then you should definitely check this value-packed advent out right away.
The NYX 12 Days of Kissmas Holiday Advent Calendar holds 12 of the best-selling lip products from NYX, including fan faves like Shout Loud lipsticks, Smooth Whip Matte Lip Cream, and Butter Lip Gloss. All in perfect mini-sizes – perfect for traveling with your makeup!

This is a great gift option for your lipstick-loving friend, or a fun self-care gift to open each day for a lovely lipstick surprise.
Pretty good value for 12 minis, so go give someone a NYX Kissmas today!
.
Makeup Revolution 24 Days of Glam Advent Calendar
.
Revolution Beauty's Glam Advent offering includes Lip Oil Elixir Power, Matte Liquid Lip in Mauve Berry, Cream Eyeshadow in Bronze and Opulent, Pressed Powder Baecation, Clear Brow Gel and a mirror. Plus so many more goodies, but I've gotta keep something a surprise!
.
.
Bloomingdale's 25 Day Beauty Advent Calendar
.
This is my very favorite pick for this year's advent calendar selections.

Presented in a style to commemorate Bloomingdale's flagship store, and it's indeed jaw-dropping cosmetics floor, this advent calendar delivers and will keep you poised as you open each day.

Every compartment will be winner – and without giving to much away, it even contains my very own very favorite luxe moisturizer from Augustinus Bader!!

The Bloomingdales 25 Day Advent Calendar includes products from La Prairie, SK-II, Prada, Laura Mercier, Clé de Peau, Le Labo, Augustinus Bader, as I mentioned, and a slew of other high-end gorgeosities.

Go out and get this value-packed box before they are all gone! And before I get mine, too!!
.
.
L'Occitane Classic Beauty Advent Calendar
.
L'Occitane always put out a great advent collection, and this year is no exception.

Including a plethora of bath favorites like the Effervescent Bath cube, Cherry Blossom Bath and Shower Gel, Verbena Shower Gel, and loads of delicious face and body products to keep you guessing all through December.
.
24 Days of Clinique Advent Calendar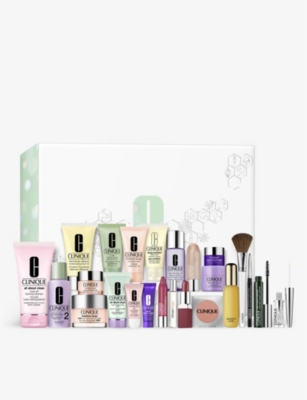 .
This is a jam-packed comprehensive beauty advent calendar if ever I saw one.
Check out the presentation – you could probably even open your own salon with the amount of products you get in here.
The 24 Days of Clinique Beauty Advent Calendar includes Clinique's 3-Step skincare, fan-favorite moisturizer, bestselling lip color, their cult-favorite makeup remover, and so much more.
.
The Rule Breaker: Peanuts Wet'n'Wild Beauty Collection
Okay, so you know I like to throw in the occasional rule-breaker when I put together collections. And this might be the cutest and most fun one so far!

What a great gift for a Peanuts fan! And the Peanuts-themed makeup brushes are worth buying the collection alone, IMO. You'll also receive a Merry Christmas eyeshadow palette, a blush quad and plenty of other super-cute Peanuts-named makeup products.
.
Sesame Street Wet'n'Wild Collection
I loved discovering the Peanuts collection so much that I couldn't resist including this year's Sesame Street presentation as well!

The vibrant shades in the eyeshadow palettes and the brush sets are the deal-makers for me, and make all of the other products seem like bonuses.

So much fun if you want to add a little childhood fun and sentimentality to your beauty lover this year.

Enjoy!

.
Featured Image by Elena Mozhvilo
.
And that is it! I hope you have enjoyed gathering some of my top picks for 2023 beauty advent calendars, for all price ranges, and all beauty fans alike.
Please go out and get them now and make someone very happy throughout December!
What's your favorite advent calendar? Did I list it above? Let me know in the comments below; is your favorite missing – I'd love to add it to the mix!