The Olay brand has come a long way from its humble origins 70 years ago.
I must admit I still that I have never given it much thought that Olay offers these two different ranges – Regenerist and Total Effects. I think of Olay as one brand. Maybe you do too?
It may have you asking, "What's the best skincare product for me?" Well, my friend, I'm here to tell you that each line targets quite specific skin types and concerns.
Olay Regenerist is all about repair and restore.
Whereas Total Effects focuses on the anti-aging process. It does so by using preventative and protective ingredients.
Both lines are ideal for all skin types.
However, it's what you want to do with your skin care routine and what your concerns are that define which line is more suited to your needs.
So, why don't we put the Regenerist Vs Total Effects comparison under the spotlight?
But first, let's go back and look at the history of this iconic and ubiquitous line.
.
This post may contain affiliate links. As an Amazon Associate, I earn from qualifying links. This means I'll receive a commission if you purchase through my links, at no extra cost to you. Please read full disclosure for more information.
.
The History of Olay
You might remember being intrigued by that striking, Art Deco-inspired glass bottle of Oil of Olay on your mother or grandmother's dresser? (Depending on your age, of course!)
Well, Olay began as Oil of Olay. And it was created in 1952 by a South African chemist named Graham Wulff.
Wulff created the iconic baby pink fluid in the heavy glass bottle especially for his wife. This came to him as a counterpart to the heavy cream formulas of the day.
I still remember growing up in Australia, and back then, it was called Oil of Ulan! I promise you! Any of my fellow Aussies remember?
Oil of Olay's name is derived from one of its ingredients – lanolin. Yep, it's literally Wulff's wordplay of the letters of its key hydrating ingredient, lanolin. You learn something every day, right?
Originally, Oil of Olay was not marketed as a moisturizer, but more of a beauty fluid. A product that kept your skin moisture levels up, as is the case in younger skin.
The original Oil of Olay formula included these prime ingredients. You may well know all about these already, but let's take a little refresher course, shall we?
.
Olay Ingredients
Lanolin
Lanolin is an emollient that heals and hydrates dry, dehydrated, and rough skin. Lanolin can be likened to human sebum (oil) and is sometimes called "wool fat". Lanolin is not a humectant but it can hold twice its weight in water. The lanolin works by trapping water onto your skin once the skin is moist. This gives your skin the look of plumpness that we are all trying to attain.
Glycerin
Glycerin is a colorless, odorless humectant that helps to increase hydration. It also helps to heal skin and prevents moisture loss. And being that it's super affordable, you'll no doubt see it in a LOT of your skin care and makeup products once you start paying attention.
Vitamin A
Vitamin A is a fat-soluble vitamin that penetrates deep into the skin. It helps to promote collagen production, which can minimize the appearance of fine lines and wrinkles.
Niacinamide (Vitamin B3)
Niacinamide is a powerhouse vitamin compound that performs numerous skin care functions. Niacinamide (aka Vitamin B3) protects the skin from environmental stressors, including exposure to UV rays, pollution, and toxins. It increases keratin (skin protein) synthesis and helps rebuild damaged DNA in skin cells.
Niacinamide supports the production of ceramides (natural fats on the skin). It's also anti-inflammatory so it's ideal for calming acne flare-ups. Over time, dark spots, discoloration, and red blotchiness are diminished.
Amino Peptides
These are the building blocks for keratin and elastin. They help keep skin looking firm, smooth, tighter, brighter, and supple.
.
To this day, Olay still uses these ingredients. As the saying goes, if it ain't broke, don't fix it.
However, the brand has found ways to deftly blend these ingredients with other high-performing ones to continue developing powerhouse formulas.
.
Olay's Beauty Evolution Timeline
Late 1950s-Early 1960's: Oil of Olay becomes available to overseas customers
1960s – The brand develops a new formula for its night cream
1980s – The brand expands its list of products with the addition of cleansers and formulas for sensitive and very dry skins. The goal is to promote a healthy glow for all skin types
1990s – Oil of Olay emerges as Olay and, thanks to advances in research and technology, begins to focus more on proactive, anti-aging formulas
2000s – Olay partners with world-renowned dermatologists to first create the Total Effects line, then called the Regenerist line (confusing isn't it?)
These innovative, effective new products go beyond basic hydration.
The new products work at a cellular level to reveal younger-looking skin.
Owned and operated by Procter and Gamble since 1985, Olay offers beauty solutions for all ages. All the while remaining on the cutting edge of promising ingredients and results.
Their regimen lists three simple and achievable steps: cleanse, treat and moisturize.
Olay's newest philosophy for its clients is that every day is a chance to be your best beautiful.
Love it!
Now that you have a little bit of Olay's background up your sleeve, let's dive into two of its most treatment and problem-specific lines: Regenerist vs Total Effects.
.
The Olay Regenerist Range
The Regenerist line was introduced in 2003. It carries a strong focus on reversing 10 signs of aging in as little as 4 weeks.
The complete skincare range includes cleansers, serums, day and night moisturizers, eye creams, and treatment systems.
This skincare range is your solution to tackling fine lines, wrinkles, uneven skin tone, dark spots, visible pores, and dullness.
Olay Regenerist is also made with all skin types in mind: dry, normal, combination/oily, and oily.
Regenerist relies on this potent combination of key active ingredients in all their products:
Amino peptides
Carob fruit extract
Glycerol
Hyaluronic acid
Vitamin E
Niacinamide
Pro-collagen molecules
.
Regenerist Moisturizers
Original Regenerist Micro-Sculpting Cream
Regenerist Micro-Sculpting Cream, Fragrance Free
Original Regenerist Ultra Rich Moisturizer
Fragrance-Free Regenerist Ultra Rich Moisturizer
Original Regenerist Whip Moisturizer
Fragrence-Free Regenerist Whip Moisturizer
Regenerist Retinol24 Night Moisturizer
Fragrance-Free Regenerist Retinol24Max Night Moisturizer
Fragrance-Free Regenerist Collagen Peptide 24 Moisturizer
Regenerist Whip Moisturizer, SPF 25
Regenerist Whip Moisturizer, SPF 40
Regenerist Micro-Sculpting Cream Moisturizer, SPF 30
Fragrance-Free Regenerist Hydrating Mineral Sunscreen, SPF 15
Regenerist Hydrating Mineral Sunscreen, SPF 30, Fragrance Free
.
Regenerist Treatments and Serums
Original Regenerist Micro-Sculpting Serum
Fragrance-Free Regenerist MAX Wrinkle Serum with Peptides
Regenerist Retinol24 Night Serum, Fragrance Free
Regenerist Retinol24 MAX Night Serum, Fragrance Free
Regenerist Collagen Peptide 24 Serum, Fragrance Free
.
Regenerist Eye Creams
Regenerist Collagen Peptide 24 Eye Cream, Fragrance Free
Regenerist Retinol24 Night Eye Cream, Fragrance Free
Regenerist Retinol24 MAX Night Eye Cream, Fragrance Free
Regenerist
Key Benefits and Ingredients of Popular Products
.
Olay Regenerist Regenerating Cream Cleanser
Regenerating Cream Cleanser can be used daily because of its fine microbead. But it may be best to see how your skin goes with daily use. Perhaps alternating days with your favorite non-exfoliating cleanser is a safer bet to not overdo the exfoliating.
Morning use of this Olay product is suggested since you don't have to worry about removing makeup. You'll want to avoid the eye area.
Using this product in the morning promotes microcirculation and wakes up your skin.
Key ingredients include salicylic acid, hydrated silica, and vitamins C and E.
Find Regenerating Cream Cleanser here.
.
.
Olay Regenerist Face Cleansing Brush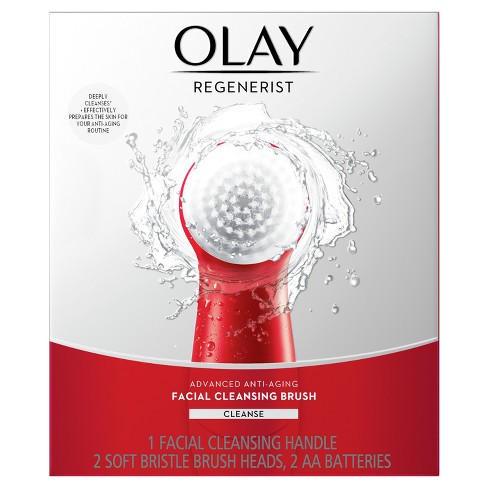 This is a great alternative to pricey face cleansing brushes.
This brush is small, lightweight has two speed settings. It's also water-resistant, and can be used daily or as needed.
Again, I recommend using this in the morning to wake up your skin and make your favorite non-exfoliating cleansers work smarter, not harder.
The Regenerating Face Cleansing Brush is especially recommended for those who use mineral powder foundation since the minerals can eventually build up and collect in pores.
Find the Regenerist Face Cleansing Brush here.
.
Olay Regenerist Max Wrinkle Serum
Max Wrinkle Serum is a concentrated cocktail with the brand's proprietary blend of Energizing Complex and Vitamin B3. And it also contains twice the amount of peptides as the Regenerist creams. The serum can be for used on dry and normal skin. Use it day and night under your favorite moisturizer.
FInd Regenerist Max Wrinkle Serum here.
.
Olay Regenerist Micro-Sculpting Cream Moisturizer
The popular and easily recognized "red jar" with the silver lid. The Olay Regenerist Micro-Sculpting Cream is ideal for normal, combination, and oily skin. It can be used day and/or night (topped off with a separate SPF for daytime).
Find Regenerist Micro-Sculpting Cream here.
.
Olay Regenerist Ultra Rich Moisturizer
As the name suggests, this is a richer formulation than other Olay moisturizers. It is suited for dry, normal, and combination skin. It contains shea butter, amino peptides, and niacinamide. Ultra Rich is ideal for use in the winter months when you need a bit more hydration.
Find Regenerist Ultra Rich Moisturizer here.
.
Olay Regenerist Whip Face Moisturizer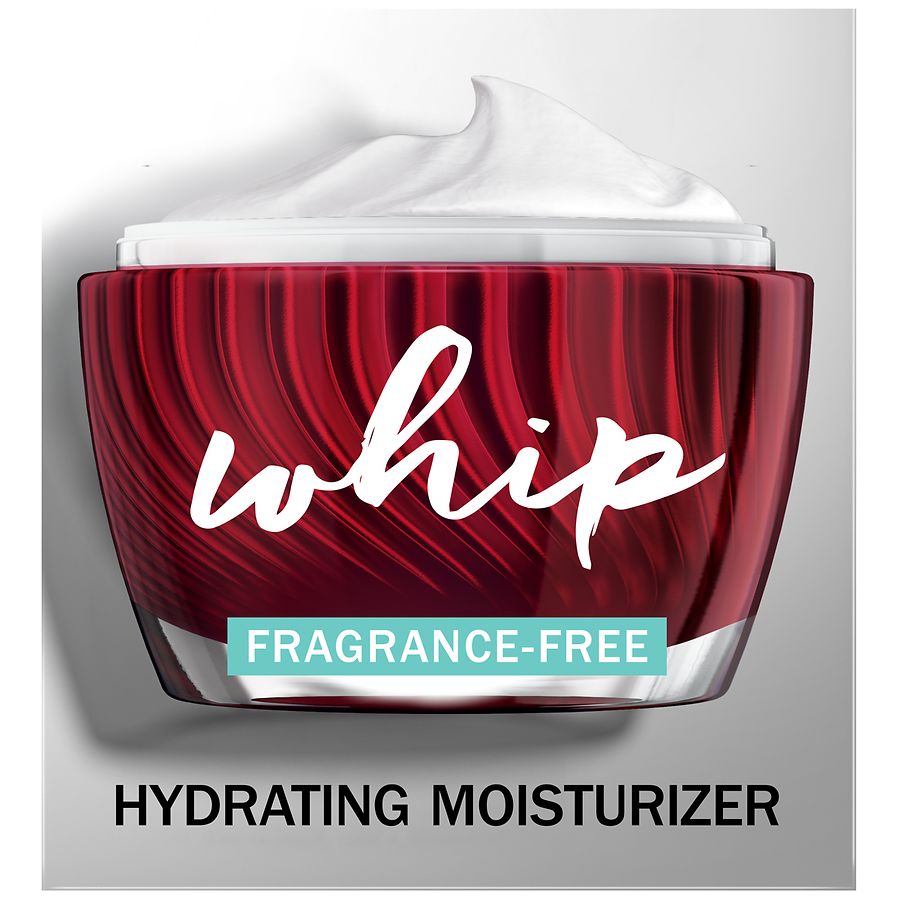 Whip is a cream to liquid formula that feels feather-light, non-greasy, and leaves a light as air finish. It is perfect for normal, combination, and oily skin and ideal to use in the summer when you need a lighter formula. Contains niacinamide, hyaluronic acid, and amino peptides.
.
Olay Regenerist – the Pros and Cons
Pros
products make use of well-known, effective, repairing and restoring ingredients
formulations and textures are compatible with some higher-end, department store brands
easily accessible at various drugstores and fine retailers
Cons
unless otherwise noted, the SPF used in some of the products is a combination of chemical sunscreens: avobenzone, homosalate, octisolate and octocrylene. These may cause irritation in sensitive skin types
using one single product alone may not give you the best results. The line was designed to use of all the products in combination with one another.
the price points are slightly higher than other drugstore skincare products
.
The Olay Total Effects Range
The Total Effects range was introduced in 2000, no doubt to ring in a new millennium in skincare. The Total Effects products were designed as the ultimate preventative multitasker that addresses seven signs of aging.
Regular use will:
hydrate
replenish
brighten
even out skin tone
minimize the look of pores noticeable in the skin
visibly firm and diminish the look of fine lines
visibly smooth uneven skin texture
Vitamin E and green tea are the two prominent and proven effective antioxidants against the damage of free radicals (also known as oxidative stress). The formulas are also oil-free and contain the brand's signature VitaNiacin Complex II for powerful results. Use of Total Effects will leave your skin nourished, radiant, and ready to take on the day!
Total Effects Moisturizers
Original Total Effects Moisturizer
Total Effects Whip Moisturizer, Original
Total Effects Whip Moisturizer, SPF 25
Fragrance-Free Total Effects Whip Moisturizer, SPF 25
Total Effects Whip Moisturizer, SPF 40
Not exactly in the Total Effects category, but still notable to mention:
Ultimate Eye Cream for Wrinkles, Puffy Eyes and Dark Circles
Brightening Eye Cream for Dark Circles
.
Total Effects
Key Benefits and Ingredients of Popular Products
.
Olay Total Effects Moisturizer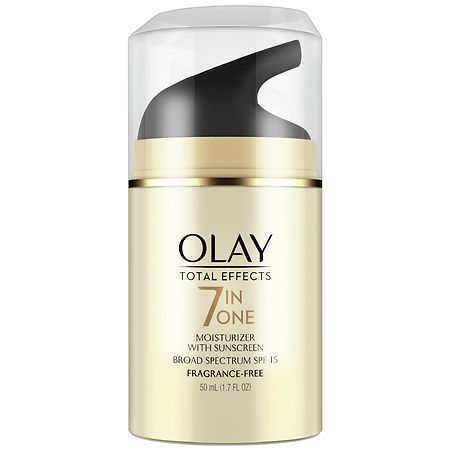 Consider this a daily multi-vitamin to keep your skin healthy and energized. Oil-free, non-greasy and ideal for dry, normal, and combo/oily skin. Just like the other non-SPF formulas, can be used day and/or night, just add a separate sunscreen on top for daytime.
Find Olay Total Effects Moisturizer here.
.
.
Olay Total Effects Whip Face Moisturizer SPF 25
Olay still promises their 7-in-1 mantra with Whip SPF 25. Plus a good amount of sun protection for normal, combo/oily and oily skin types. Whip SPF 25 also provides a moisturized and matte finish. It also protects against UVA/UVB rays, contains niacinamide and vitamins C and E.
Find Olay Total Effects Whip SPF 40 here.
.
Olay Total Effects Eye Transforming Cream
Olay's Total Effects eye cream offering comes in the form of Eye Transforming cream. And in following suit with all of Totals Effects products, offer 7 ways to fight aging. This transforming cream will help even out skin tone, hydrate and nourish your delicate eye area. It's fast-absorbing, non-greasy and oil-free.
Find Total Effects Eye Transforming Cream here.
.
Total Effects – the Pros and Cons
Pros
geared towards those among us in their late teens to mid-30s (in other words, those in the preventative category)
makes use of proven antioxidants vitamin E and green tea
affordable, multi-tasking skincare
Cons
not intended for repair or restoration (in my opinion, anyone over 40)
products may not be as efficacious as those in the Regenerist range – ie results may not be as dramatic or quick acting
.
Regenerist or Total Effects Alternatives?
In theory, you could spend $50, $60, $70+ for a moisturizer. But before investing in high-end formulas, I suggest you read the list of ingredients first.
Many times, you pay exactly for what high-end products tend to be: prestige packaging and brand names. A lot of times, if a prestige brand touts the latest ground-breaking ingredient, you'll still end up paying for mostly water, fillers, and binders. And there are still many, many affordable moisturizing products for all budgets to be found.
Olay is less expensive, yes.
However, Olay's ingredients (and not all at once) can be found in some prestigious, classic brand formulas, thus giving you similar results and, generally with a more affordable price tag.
.
Regenerist Vs Total Effects – The Verdict
So, the takeaways about what truly are the differences between the Regenerist vs. Total Effects line are. Drum roll, please!!!!
Regenerist = Repair and Restore (or R and R, as I like to remember it!)
Of course, that's simplifying it somewhat.
Regenerist seems to be marketed at a more mature audience. Their price points tend to be a little higher, and their products offer prompt delivery of their promises.
Total Effects = Prevent and Protect (and this would stand for P & P! Easy!)
A more well-rounded multi-tasker is how I would sum up Total Effects (as the name suggests, as well). A lower price point certainly makes this line attractive to a younger buying audience that may well be investing in their first skincare products. Awe.
I hope this has helped you see the differences between both of these Olay ranges. Their pros and cons, and help you find the right products for you!
.
.
.
Sources:
Discover The Olay History | Olay
Lanolin Oil: Health Benefits, Uses, and Side Effects (healthline.com)
The 15 Best Vitamins & Nutrients for Healthy Skin (webmd.com)
What Is Niacinamide? – 5 Amazing Niacinamide Benefits for Skin (prevention.com)
Niacinamide: A B vitamin that improves aging facial skin appearance – PubMed (nih.gov)
Nicotinic acid/niacinamide and the skin – PubMed (nih.gov)
Glycerin – The Dermatology Review (thedermreview.com)
Olay Regenerist Review: Does it Work? Better Alternatives? (healthcarebusinesstoday.com)