I've been going through my kit recently and had this kind of 'aha' moment. I think part of what draws me to makeup like a magnet is that the products look like paint colors. And I love colors! I love using vibrant colors in all aspects of makeup, not only beauty. But sometimes, how a makeup product looks in the pan, is not a true indication of how it looks on the skin. And remember – the darker the skin tone you are putting makeup on, the brighter and more vibrant a cheek shade can be to really glow on the face. I decided we should have a look at the best blush for dark skin tones.
And going a step further, it's important to recognize the importance of pigment. And apply it (no pun intended!) to your makeup practice and mindset.
I guess where I'm going is how vital a good understanding of color theory is, whether you're putting makeup on yourself at home or on someone else at work.
In this post, we will focus on the faves, the tried and true star products, and the outright best blush shades for dark skin tones.
So come along with me, and let's look at these beauties together.
.
The Undertone
Before we get started, I also just wanted to mention a quick sidenote about undertone.
To be able to apply the perfect cheek shade, you should have a vague idea of your own, or the person who you're making up – and their skin's undertone.
So take a look at your jewelry, clothes, and hair color.
.
This post may contain affiliate links. As an Amazon Associate, I earn from qualifying links. This means I'll receive a commission if you purchase through my links, at no extra cost to you. Please read full disclosure for more information.
.
You most likely have a cool undertone if you wear silver the most. If you wear gold, then you most likely are a warm undertone. If you wear both, you might be lucky enough to have a neutral undertone. Same for clothing.
And don't forget our friend, the color wheel.
If you don't own one, I highly recommend grabbing one. They are so handy to keep in your kit. There are all sorts of colors wheels in all shapes and sizes.
Learn about my fave color chart here to refer to. It's great and guides my choices when I'm stuck sometimes!
Okay, so back to blush.
Now the reason I mentioned undertones and the color wheel is I want you to keep in mind that how a blush product looks in the pan more often than not, is NOT how it will ook on your skin. Or anyone else's skin for that matter. So that means that we have to try, play, and experiment before coming up with what works and what doesn't work. As well as using fantastic guides like color wheels, and knowing about the undertone, which help in massive ways in making good choices.
So let's have a look at some of my absolute favorite blush products for darker skin tones.
.
.
MAC Powder Blush in Raizin
It seems right to kick off with this modern legend of the blush world, don't you think? And if I could have only 1 product in my kit, all things blush-related, it may well just be Raizin. It's such a great all-rounder, with a strong pigment, looks great on everyone, and even better with any lip color too,
Can't go wrong with Raizin, I say!
Find MAC Powder Blush in Raizin here.
.
Ben Nye Theatrical Rouge Palette
I love this palette. I have used this on so many people over the years. In particular, I love using that top row of vibrant red and orange tones on medium to dark skin tones.
The Ben Nye powders are highly pigmented. Unlike some products that you apply and it feels like there is nothing there, you will definitely know there is product there with this beauty.
Find the Ben Nye Theatrical Rouge Palette here.
.
Danessa Myrick's Dew It Flirty Cheek and Lip Palette
Intensely pigmented, these gorgeous multi-tasking creams from Danessa Myricks are a must-have in your kit. Regardless of what aspect of makeup you specialize in.
These creams are lightweight, despite the pigment they punch. And you can sheer them down or layer them up to add intensity of color. And you know I'm a sucker for a palette with many uses. Sometimes it's nice to play up a monochromatic face, simply by using the one shade on your cheeks and lips, and this is the palette to do it.
Find Danessa Myricks Dew It Flirty Cheek and Lip Palette here.
.
Pro Tip: For a more intense look, try layering your products. Start with a cream product, and then set with a powder cheek product over the top. Have a play with intensities to create some really cool effects with your two different textures on the cheeks.
.
Bésame Cream Rouge
I'm so thrilled to share a Bésame product with you finally! This makeup range is one-of-a-kind, and I'm a giddy fan for sure!
But you may know Bésame for their lipsticks.
The Cream Rouge is another excellent product, of course, presented in sumptuous vintage packaging that is just gorgeous. Cream cheek product AND beautiful decor focal piece for your bathroom vanity. Either way, you'll always feel fab when you apply and wear Bésame.
Find Bésame Cream Rouge in Apricot here.
.
Juvia's Place Blush Palette Sahara Vol. 1
Keen-eyed or long-time Makeup Refinery readers may recognize this Juvia's Place beauty from another post about the best blush palettes. And I certainly couldn't leave it off this collection. I love the presentation, and I love Juvia's Place. The names, the shades, the pigment. And honestly, a powder blush will never be far from my kit, either.
Find Juvia's Place Blush Palette Sahara Vol. 1 here.
.
Senna Mini Slip Cover Cream to Powder Cheeky Blush Palette in Bold
Oh, how I love these palettes from Senna. It offers such delicious shades of pinks, fuschias, corals, and rusty reds. You can build up washes of natural glow with these, and are a must-have in your kit for so many reasons.
Find Senna Cheeky Blush Palette in Bold here.
.
Ilia Color Haze Multi-Pigment
Following on with yet another favorite of mine in the clean beauty field. Ilia's Color Haze Multi-Use Pigment is also clearly marketed as a lip product first. The applicator gives us that feeling, anyway. Super high pigment, satin finish and dewy, yet enough oomph to stay where it's put. The shades of Stutter and Sing are particularly beautiful on love to deep skin tones.
Find Ilia Color Haze Multi-Pigment here.
.
Mehron Cheek Powder Blush Palette
Another must-have all-rounder in the powder palette department, for sure. Mehron presents us here with 8 super matte, high-pigment cheek shades to contour and glow to your hearts content. But that bottom row is where it's at.
This would be a perfect palette to pair with your favorite cream cheek product to create a lovely layered effect too.
Find Mehron's Cheek Powder Blush Palette here.
.
Danessa Myricks Luxe Cream Palette The Feminist
I love Danessa's cheek and lip products. They are designed with logic in mind. Particularly the Luxe Cream Palette. It's the perfect palette.
Made even more perfect when I notice that the first ingredient listed is squalane. Lightweight, yet durable and buildable, this range of 12 perfectly curated shades could do all of your work each day not only for cheeks, but lips, and eyes as well. The perfect palette.
Find Danessa Myrick's Luxe Cream Palette The Feminist here.
.
Ben Nye Studio Color Vivid Blush Palette
While this Ben Nye palette could very easily be mistaken for a Viseart, the shades are more punchy and brighter than the Viseart counterpart. This is a lovely palette, again showing Ben Nye holds their place not only within film/tv industry but the mass-market as well, which is pretty cool after over 50 years of operation.
Find Ben Nye Color Vivid Blush Palette here.
.
Viseart Blush HD Palette
Here she is. One of my fave Viseart staples (did I mention the Neutral Mattes 01 palette yet?!) just kidding.
Pair this blush palette with the Neutral Mattes, and you can do anything, I say. Love this palette, sure it's on the softer more natural side of things, but sometimes, you want to create a more soft and subtle look and this is the perfect, pigmented way to do it.
Find the Viseart Blush HD Palette here.
.
.
e.l.f. Putty Blush
On the pocket-friendly end of the blush spectrum, another cream cheek product I really like. e.l.f. have more than a few shades in this range that are perfect on dark skin tones. And this is my favorite, Fiji. Maldives and Caribbean are some other picks for me, and it's not just the names!
.
Tata Harper Cream Blush in Naughty – Ruby Red
I love a skincare range that stands behind their makeup products. Tata Harper presents a lovely cream blush product called Naughty – Ruby Red. And while this satin finish cream is described as sheer, it's still incredibly pigmented if you want it to be.
Find Tata Harper Cream Blush in Naughty here.
.
RMS Lip2Cheek Glow Quad Mini Palette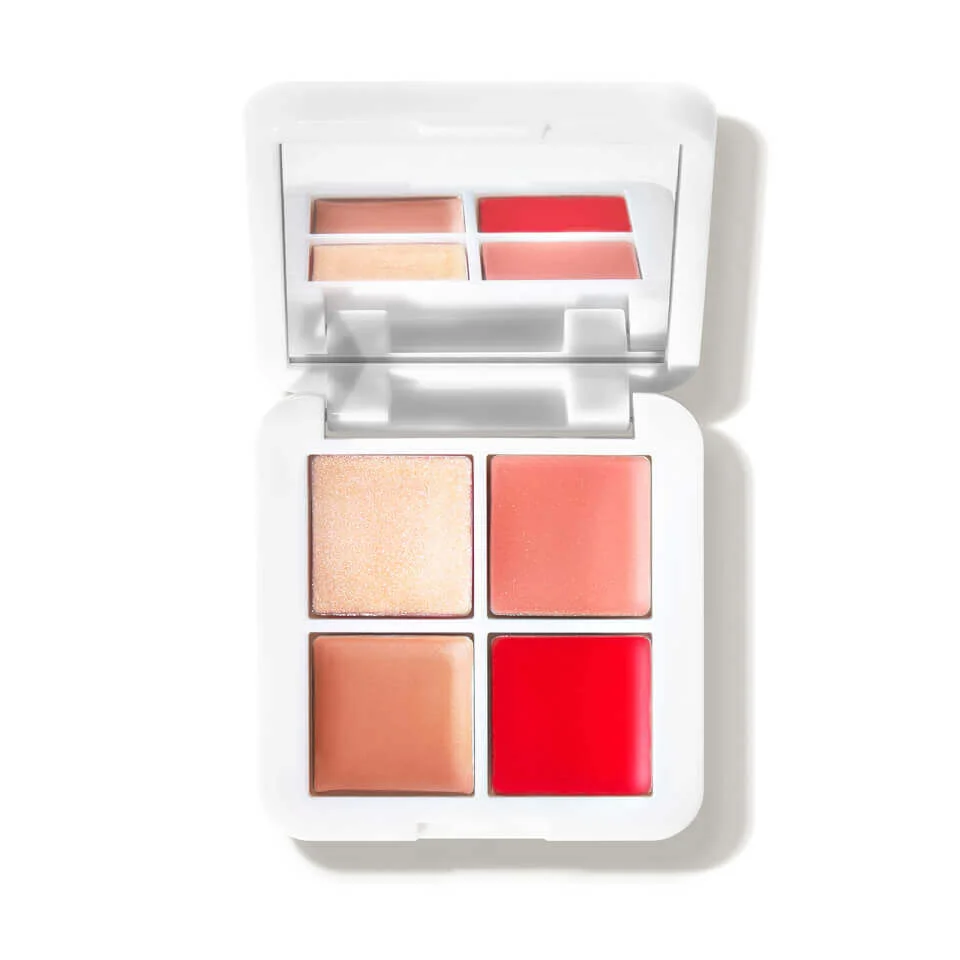 I do love this gorgeous mini-quad palette from RMS. Looks at those pretty luminizers and sheen in there. The red shade – Beloved can be given a kick of gold, dusty pink or champagne highlights with the other three options.
The ingredients sounds more like a fancy salad description than a makeup product and gets my vote for feeling good on your face.
From an RMS fan 🙂
Find RMS Lip2Cheek Glow Quad Mini Palette here.
.
Ben Nye Studio Color Eye And Cheek Rainbow
While I'd be hesitant to use most of these shades on the cheeks for anything other than a futuristic gig, a catwalk show, or something like mardi-gras, I would definitely use the red, orange, yellow, coral, pink and purple shades for the cheeks. I love Ben Nye products, they are legendary, after all, and this palette is no exception. High-pigment, matte powders for the whole face, and in all the colors of the rainbow. So cool!
Find Ben Nye Studio Color Eye and Cheek Rainbow here.
.
MAC Limited Edition Blush Stranger Things – He Likes It Cold
So, we started with MAC, it only felt right to end with MAC, albeit a weird one! But I was so drawn to the very specific tone of this gorgeous burnt red tone looks great on anyone with a pulse, by I particularly love it on medium-dark skin tones. And if you haven't heard me say so before, I am a sucker for a bit of pretty packaging, and add that to some big-business crossovers, you can't go wrong, right?
Find the MAC Limited Edition Stranger Things Blush in He Likes It Cold here before it disappears to the upside down, forever!
.
I hope you have enjoyed taking a look at my pick of blush tones and products that are tops on dark skin tones. If you haven't already taken a look, check out my picks for best blush palettes – you may see some repeat offenders from this list!
Might be time to update the blush supply in my kit!
.
Featured Image by Terricks Noah